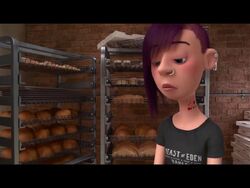 The Yeast of Eden Server is a character in Inside Out. She is seen giving Riley and her mom some broccoli pizza.
During the credits, her emotions are revealed to have purple hair and piercings like her. Disgust is the dominant emotion and all of the emotions share a slothful careless mentality along with black clothing, nose-rings and gothic hairstyle. She is named Troy by her Anger emotion.
Ad blocker interference detected!
Wikia is a free-to-use site that makes money from advertising. We have a modified experience for viewers using ad blockers

Wikia is not accessible if you've made further modifications. Remove the custom ad blocker rule(s) and the page will load as expected.