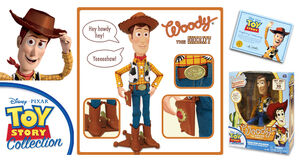 A Sheriff Woody replica produced by Thinkway Toys was released in fall 2009 as part of the first wave of the "Toy Story Collection" line.
Description
From Thinkway Toys:
Highly detailed deluxe film replica from Disney/Pixar's digital data.
Pull his string for classic "Woody Doll" phrases.
Talk to him and he responds as "Andy's Room Woody".
He even knows if you're talking loudly or softly and reacts.
Includes a Toy Story Collection Certificate of Authenticity.
BONUS: Sheriff star display stand.
Inaccuracies
His eyelids are visible.
He has an open smile instead of a closed smile. This is because the models Thinkway replicated for the Toy Story Collection toys were especially made for the Thinkway Toys, and the original models had closed smiles. The model which was used for the Toy Story Collection Woody doll was modified to have an open smile for more expression.