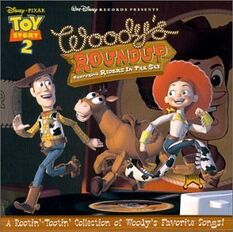 Woody's Roundup: A Rootin' Tootin' Collection of Woody's Favorite Songs
(or simply known as "
Woody's Roundup
") is a studio recording released by the Western band
Riders in the Sky
on August 29, 2000. It is available as a single CD.
This album is a collection of favorite western tunes inspired by the Woody's Roundup TV show featured in Toy Story 2.
The album won the Grammy Award for Best Musical Album for Children at the Grammy Awards of 2001.
Track listing
Woody's Roundup
The Ballad of Bullseye
Hey Howdy Hey
My Favorite Toy
How Does She Yodel?
The Prospector Polka
You've Got a Friend in Me [instrumental]
"One, Two, Three," Said the Prospector
Home on the Range
Shhh! A Secret Bonus Track!
Personnel
Ad blocker interference detected!
Wikia is a free-to-use site that makes money from advertising. We have a modified experience for viewers using ad blockers

Wikia is not accessible if you've made further modifications. Remove the custom ad blocker rule(s) and the page will load as expected.