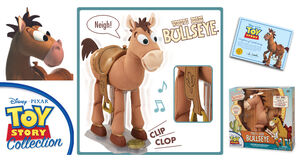 A Bullseye replica produced by Thinkway Toys was released in spring 2010 as part of the second wave of the "Toy Story Collection" line.
Description
From Thinkway Toys:
Gallop into the sunset with Woody's trusty steed!
Bullseye is crafted using DISNEY/PIXAR's digital data.
Neighing and clip clop sound effects.
Detailed vinyl saddle and stirrups with floppy rag doll legs.
BONUS: Unique Woody's Roundup stand to display Bullseye.
Includes a Toy Story Collection Certificate of Authenticity.
Ad blocker interference detected!
Wikia is a free-to-use site that makes money from advertising. We have a modified experience for viewers using ad blockers

Wikia is not accessible if you've made further modifications. Remove the custom ad blocker rule(s) and the page will load as expected.