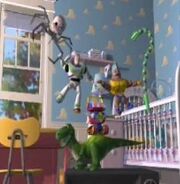 Why Doesn't Andy Just Get Cable? is one of the Toy Story Treats that aired on ABC's Saturday morning line-up in 1996.
Plot
Woody tells Buzz, Rex, Robot, Snake, Babyface* and Rocky Gibraltar to move their legs and act as a televison antenna. Rex asks, "Why doesn't Andy just get cable?"
This is another time Babyface is in Andy's House.
Video