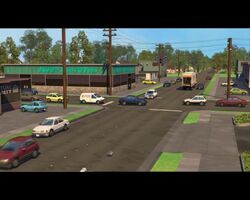 Virtual Realty is a real estate company that sells the Davis' first house. The building is later shown to be next to the Dinoco gas station and across from JuJu's House O' Food. It is seen when Andy's van drives away from the gas station without Woody and Buzz, and later, during the moving scene. Its name is a pun on the term "virtual reality."
Ad blocker interference detected!
Wikia is a free-to-use site that makes money from advertising. We have a modified experience for viewers using ad blockers

Wikia is not accessible if you've made further modifications. Remove the custom ad blocker rule(s) and the page will load as expected.