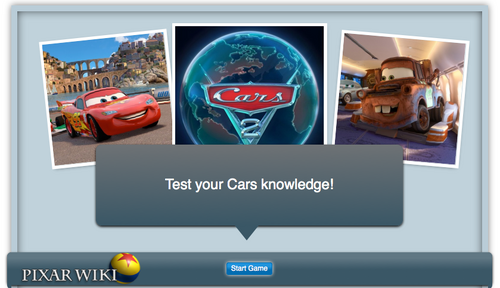 Hello fellow Pixar fans. Wikia is proud to announce the release of one of their new features and we have selected your wiki for testing it out. In preparation of the upcoming Cars 2 release, we have created a quiz testing out your Cars knowledge. Soon you will be able to create and take your very own quizzes and we look forward to seeing what you guys will come up.
Keep in mind that this product is still being tested, so any thoughts or opinions that you have on it would be greatly appreciated in the comments.
Be one of the first people to test out this new feature with the Carz Quiz. Also, share what your score was in the comments below if you'd like.
- Wagnike2 22:39, June 20, 2011 (UTC)
Ad blocker interference detected!
Wikia is a free-to-use site that makes money from advertising. We have a modified experience for viewers using ad blockers

Wikia is not accessible if you've made further modifications. Remove the custom ad blocker rule(s) and the page will load as expected.