Hey everyone, You might know me. I am Rohan Anthony Hordern. What happened to RohanHordern2016? That was on my Mum's computer, This is my Laptop's Account now. I will keep it. Anyways, Start of blog post.
Big W has released Disney Pixar DVDs at their store, I was surprised to see that. If you are an Australian pixar fan (Like me!), You should get those. I didn't get those, I don't have inside out, Brave, Good dinosaur or Monsters university yet. I came here for the Toy Story ones. They look so Awesome.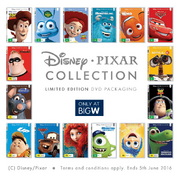 View them (Australian users of Pixar wiki can only buy them)
https://www.bigw.com.au/c/pixar-collection/
Ad blocker interference detected!
Wikia is a free-to-use site that makes money from advertising. We have a modified experience for viewers using ad blockers

Wikia is not accessible if you've made further modifications. Remove the custom ad blocker rule(s) and the page will load as expected.