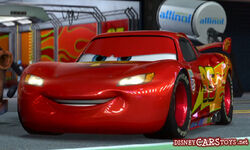 Are you excited for Cars 2? It'll be roaring into the theaters June 24!
In this latest clip, Lightning McQueen declares that "I am Speed!" as he races some snooty cars in the Grand Prix. Will he prevail? Watch the clip to find out!
Video

Kate.moon 19:26, June 1, 2011 (UTC)
Ad blocker interference detected!
Wikia is a free-to-use site that makes money from advertising. We have a modified experience for viewers using ad blockers

Wikia is not accessible if you've made further modifications. Remove the custom ad blocker rule(s) and the page will load as expected.