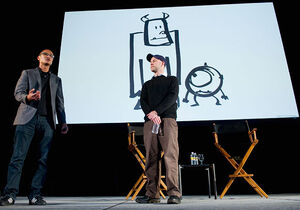 Check out the latest concept art and photos from the latest Monster's Inc. movie: Monsters University! The prequel to popular and adorable Monster's Inc. will take place in Sulley and Mike's college years, when the two pals weren't actually, well pals.
According to director Dan Scanlon and designer Ricky Nierva, the two wannabe monsters were more like frenemies who competed to become the scariest they could possibly be.
At Disney's D23 Expo this past weekend, Pixar unveiled new looks for our furry and round monsters.
"We all looked a little different when we were in college," said the bald Scanlon, who had his cap off and then showed an old photo of himself with a full head of hair. "Mike we made a little smaller," he went on, pointing out the orthodontia designed "to either straighten or loosen his teeth. I'm not really sure what the desired effect is in the monster world."
Mike looks adorable in the sketches with his huge eyes; Sulley will be fresh-faced and less furry...apparently less frightening than the cuddly scary monster he is in Monster's Inc.
Billy Crystal and John Goodman will return as Mike and Sulley respectively...and Crystal revealed that to voice Mike in college, he'll be wearing retainers! How adorable!
We know what they are in Monster's Inc...but now we get to see how they got there! Are you excited for the return of our favorite bedtime monsters? Check out more pictures below!
Gallery
Source