Ad blocker interference detected!
Wikia is a free-to-use site that makes money from advertising. We have a modified experience for viewers using ad blockers

Wikia is not accessible if you've made further modifications. Remove the custom ad blocker rule(s) and the page will load as expected.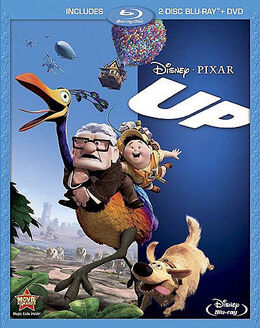 Up was released on DVD and Blu-ray in North America on November 10, 2009, and in the United Kingdom on February 15, 2010. It features the film plus the theatrical short Partly Cloudy and the new short Dug's Special Mission, as well as an audio commentary by director Pete Docter, the documentary Adventure is Out There on the filmmakers' research journey to South America, The Many Endings of Muntz (an alternate ending of sorts), and a digital copy. The film was re-released on 2-disc Blu-ray/DVD combo pack on July 5, 2011.
DVD
Adventure is Out There
The Many Endings of Muntz
Scene Index
Newsreel
Meet Ellie
Married Life
Carl Alone
Construction Zone
Carl's Mistake
Carl Goes Up
Interrupted
Storm
Where Are We?
Stuck
The Journey Begins
Hunting Dogs
Talking Dogs
Ditch 'Em
Campfire
Hunters Come to Camp
Dinner
Pursuit
Stuff I Remember Most
Muntz Takes Kevin
Message from Ellie
Cleaning House
Rescue Russell
Rescue Kevin
Old Man Fight
Dogfight
Atop the Dirigible
Back Home
Credits
Blu-ray
Cine-Explore with BonusView
Global Guardian Badge and Geography games
8 documentaries
BD-Live to the Deluxe DVD and digital copy platters