Ad blocker interference detected!
Wikia is a free-to-use site that makes money from advertising. We have a modified experience for viewers using ad blockers

Wikia is not accessible if you've made further modifications. Remove the custom ad blocker rule(s) and the page will load as expected.
Coco is set to be Pixar's nineteenth feature film. It is scheduled to be released on November 22, 2017.
Official Announcement
Disney/Pixar announced Lee Unkrich's next film after Toy Story 3 at CinemaCon on April 24, 2012. It was referred to as The Untitled Pixar Movie About Dia de los Muertos. The following official synopsis was provided:
2015 D23 Expo
The title of the film, Coco, and the expected release date of fall 2017, were first revealed at 2015 D23 Expo. The official synopsis is:
| | | |
| --- | --- | --- |
| " | Coco is the celebration of a lifetime, where the discovery of a generations-old mystery leads to a most extraordinary and surprising family reunion. | " |
It was indicated the film centers on a 12-year-old boy named Miguel, who sets off a chain of events relating to a century-old mystery and discovers the world of the dead. Unkrich said the culture of Dia de los Muertos left on him a lasting and inspiring impression. The story originated from him wondering what if one could meet his deceased relatives.[2][3][4]
Production
On April 12, 2016 Lee Unkrich announced on twitter that animation has officially started on Coco.
Cameos
Lee Unkrich confirmed that there will be a reference to a Stanly Kubrick film
Credits
Director: Lee Unkrich Co-Director: Adrian Molina Producer: Darla Anderson Character designer: Daniel Arriaga Supervising Animators: Mike Venturini and Gini Santos Animators: Eliza Ivanova, Dovi Anderson and Gwen Enderoglu Lighting: Danielle Feinberg
Gallery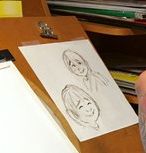 External Links
References