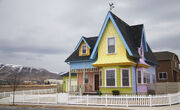 The UP house in Herriman, Utah was built by Bangerter Homes in early 2011. It was designed with the blessing and help of Pixar. It was open to the public during the 2011 Utah Parade of Homes and throughout the fall until it became occupied in early 2012.
Homeowners
Clinton and Lynette Hamblin[1] purchased the home in late 2011 and moved from California with their daughter Coral, and son Gunner, in early January 2012 to occupy the home. The Hamblins are professed Disney and Pixar fans and had been looking for an UP-style house for some time before finding and making an offer on the Utah home.
As a housewarming gift to the new owners of the house, Pete Docter sent the Hamblins an autographed poster from the movie.
Color Controversy
The UP house was built in a neighborhood controlled by a homeowners association with strict exterior paint color restrictions. After the Hamblins moved in, a discussion arose among neighbors and the homeowners association board as to whether the UP house should be forced to comply with the approved earth-tone color palette[2]. In March 2012, word came that the house would be granted an exception to the color rule to preserve the charm of the house[3].
Photo Gallery
References
Ad blocker interference detected!
Wikia is a free-to-use site that makes money from advertising. We have a modified experience for viewers using ad blockers

Wikia is not accessible if you've made further modifications. Remove the custom ad blocker rule(s) and the page will load as expected.