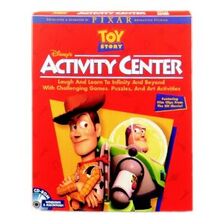 Toy Story Activity Center
is a CD-ROM game where you play a whole bunch of games featuring the
Toy Story
characters. With the click of a mouse, you'll enter a wacky 3-D world where toys come alive. As you play along, you'll be able to play in Andy's house, Pizza Planet, and Sid's house. Every game is packed with fun surprises, plus music and 3-D graphics just like in the movie Toy Story. In fact, there's plenty of new animation for a nonstop adventure around town playing wonderful Toy Story games all around!
Ad blocker interference detected!
Wikia is a free-to-use site that makes money from advertising. We have a modified experience for viewers using ad blockers

Wikia is not accessible if you've made further modifications. Remove the custom ad blocker rule(s) and the page will load as expected.