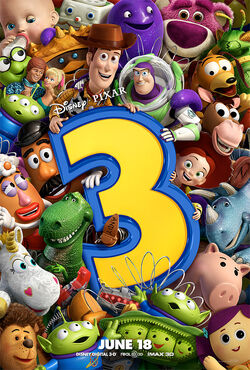 Cameos, in-jokes, re-used animation and other trivia from Toy Story 3.
Cameos
Cameos Gallery
Re-used Animation
Other Trivia
References
↑ 1.0 1.1 1.2 1.3 1.4 1.5 Toy Story 3 fun facts! Batteries not included., DisneyPixar tweet, September 15, 2017.
↑ 2.0 2.1 2.2 "Cine-Explore" (supplementary material on Blu-Ray disc release of Toy Story 3). 2010. Blu-Ray disc. Walt Disney Home Entertainment, 2010.
Ad blocker interference detected!
Wikia is a free-to-use site that makes money from advertising. We have a modified experience for viewers using ad blockers

Wikia is not accessible if you've made further modifications. Remove the custom ad blocker rule(s) and the page will load as expected.