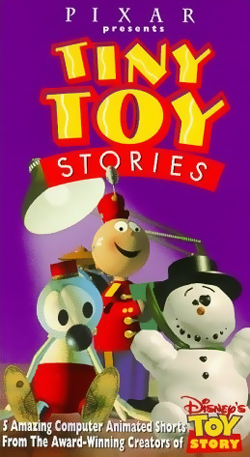 Tiny Toy Stories is a VHS featuring five computer animated short films made by Pixar. It was released on October 29, 1996 by Walt Disney Home Video.
Shorts
The video includes:
Characters
Follow-ups
In November 2007, Pixar released Pixar Short Films Collection, Volume 1, which featured all of Pixar's animated short films up through 2006's Lifted. It also included The Adventures of André and Wally B.. A second volume of shorts, Pixar Short Films Collection, Volume 2 was released in 2012.
Ad blocker interference detected!
Wikia is a free-to-use site that makes money from advertising. We have a modified experience for viewers using ad blockers

Wikia is not accessible if you've made further modifications. Remove the custom ad blocker rule(s) and the page will load as expected.