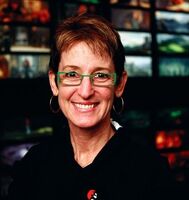 Tia Kratter is a long-time Pixar employee. She started at Pixar in 1993 and worked on Pixar's first feature film, Toy Story. Kratter has worked on almost every other Pixar film including Toy Story 2, Monsters, Inc. and Cars. She was also the art director of Brave.
Trivia
Kratter is known for "quitting" as an April Fools' joke. The story of her April Fools antics were turned into a Pixar Studios Story.
At the back of the Pizza Planet Truck, there is a sticker saying Krat FM. This is a reference to Kratter.
Before Pixar she worked at Disney, including work on TRON, the movie which inspired John Lasseter to make Toy Story.