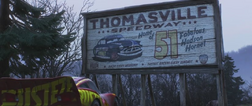 Thomasville is a small town that appears in Cars 3, with its main claim to fame being the hometown of Doc Hudson.
When looking for Smokey, Lightning McQueen and Cruz Ramirez happen upon a sign for Thomasville Speedway bearing Doc Hudson's image. While taking laps at the speedway, Lightning and Cruz encounter Smokey. He later takes McQueen and Cruz to the Cotter Pin Bar to meet Louise Nash, River Scott and Junior Moon.
Location
Thomasville appears to be located somewhere in North Carolina's Appalachian or Great Smoky Mountains.
Residents
Current
Former
Locations
Trivia
Ad blocker interference detected!
Wikia is a free-to-use site that makes money from advertising. We have a modified experience for viewers using ad blockers

Wikia is not accessible if you've made further modifications. Remove the custom ad blocker rule(s) and the page will load as expected.