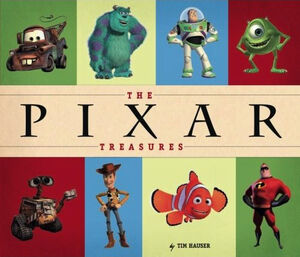 The Pixar Treasures was published on November 10, 2009 by Disney Editions.
Product description
The Pixar Treasures is a scrapbook of instinct and inspiration, experiences readers can touch, and visions that exist only in the imagination. It begins with a group of animators who were inspired by Walt Disney films. In the late 1970s and early '80s, John Lasseter, Brad Bird, and Joe Ranft were hired into an apprenticeship program at Walt Disney Productions. The last of Disney's golden age artists, including animators Eric Larson, Milt Kahl, Frank Thomas, and Ollie Johnston mentored the young dreamers, and as Pixar later developed, their work would draw heavily from this direct connection with Walt Disney's "Nine Old Men." The tale continues with Pixar's foray into computer animation, and the resulting success of Toy Story. With chapters on A Bug's Life; Monsters, Inc.; Finding Nemo; The Incredibles; Cars; Ratatouille; and WALL•E, Hauser's narrative covers the struggles, growth, and successes of an incredible animation studio. And it gives readers a sneak peak at the newest Disney/Pixar film, Up. Filled with unique removable keepsakes, The Pixar Treasures is an essential collector's item for every Pixar fan.
Ad blocker interference detected!
Wikia is a free-to-use site that makes money from advertising. We have a modified experience for viewers using ad blockers

Wikia is not accessible if you've made further modifications. Remove the custom ad blocker rule(s) and the page will load as expected.