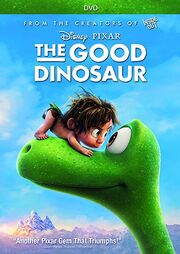 The Good Dinosaur was released on DVD and Blu-Ray on February 23, 2016.
DVD
3-Disc Combo Pack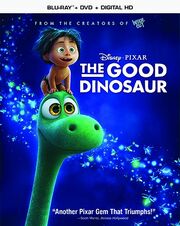 Audio Commentary by Peter Sohn, Kelsey Mann, Mike Venturini, Sharon Calahan and Sanjay Bakshi
"True Lies About Dinosaurs"
"Recyclosaurus"
"The Filmmaker's Journey"
"Every Part of the Dinosaur"
"Following the T-Rex Trail"
Deleted Scenes (with Introduction)

The Attack
Building the Silo
Waiting for Poppa

"Dino-Bites"
"Hide and Seek"
Trailers

"Moment: North American Trailer 2"
"Courage: Russian Trailer"
"Different: German Trailer"
4-Disc Combo Pack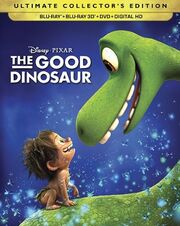 Trivia
This is the first Pixar home video to be released in the UK before the US release.
Ad blocker interference detected!
Wikia is a free-to-use site that makes money from advertising. We have a modified experience for viewers using ad blockers

Wikia is not accessible if you've made further modifications. Remove the custom ad blocker rule(s) and the page will load as expected.