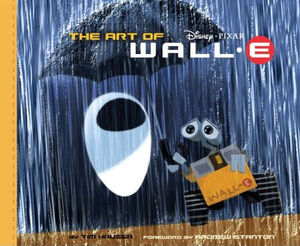 The Art of WALL•E is the official concept art book of the Pixar animated film WALL•E. It is published by Chronicle Books on April 30, 2008, and written by Tim Hauser. It shows more than 250 pieces of concept art, storyboards, full-color pastels, digital and pencil sketches, character studies, and color scripts from the WALL•E universe. It has a foreword by Andrew Stanton.
Description
Pixar Animation Studios, the innovators behind Toy Story, Finding Nemo, and Ratatouille, created its latest genre-defying film with an intriguing and unorthodox question in mind: What if mankind had to leave Earth, and somebody forgot to turn off the last robot? WALL-E (Waste Allocation Load Lifter-Earth Class) is this last, soulful robot. When his lonely work is interrupted by the arrival of the sleek probe-droid EVE, a rollicking adventure across the galaxy ensues.
The Art of WALL-E features the myriad pieces of concept art on which this fantastic, futuristic film was built, including storyboards, full-color pastels, digital and pencil sketches, character studies, color scripts, and more. Astute text-featuring quotes from the director, artists, animators, and production team-unearths the filmmakers' historical inspirations and recounts the creative process in intimate detail. This richly illustrated portal into the artistic spirit of Pixar reveals a studio confidently pushing the limits of animation.
See also
Ad blocker interference detected!
Wikia is a free-to-use site that makes money from advertising. We have a modified experience for viewers using ad blockers

Wikia is not accessible if you've made further modifications. Remove the custom ad blocker rule(s) and the page will load as expected.