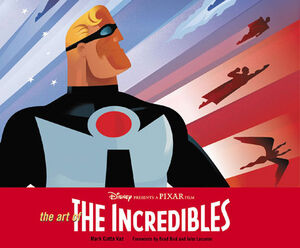 The Art of The Incredibles is the official concept art book of the Pixar animated film The Incredibles. It is published by Chronicle Books on September 30, 2004, and written by Mark Cotta Vaz. It has two forewords by John Lasseter and Brad Bird.
Description
From Pixar Animation Studios, the Academy Award winning studio that brought us such blockbusters as Toy Story, Monsters, Inc., and Finding Nemo, comes The Incredibles, a hilarious, action-packed story of a family of superheroes living an underground suburban existence. The sleekly designed settings and characters were conceptualized and developed by writer/director Brad Bird and Pixar's creative team of artists, illustrators, and designers, resulting in a celluloid sensation rich with detail. The Art of The Incredibles celebrates their talent, featuring concept and character sketches, storyboards, and lighting studies, and invites readers into the elaborate creative process of animation through interviews with all the key players at Pixar. With an 8-page gatefold and fabulous color art, this stunning book the only movie tie-in book for adults will delight film-goers, artists, and animation fans alike.
See also
Ad blocker interference detected!
Wikia is a free-to-use site that makes money from advertising. We have a modified experience for viewers using ad blockers

Wikia is not accessible if you've made further modifications. Remove the custom ad blocker rule(s) and the page will load as expected.