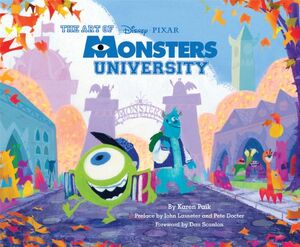 The Art of Monsters University is the official concept art book of the Pixar animated film Monsters University. It is published by Chronicle Books on June 2013, and written by Karen Piak. It has a preface by John Lasseter and Pete Docter, and a foreword by Dan Scanlon.
Description
Featuring the concept art that went into the film's creation; from character studies and sculpts to color scripts, storyboards and more, The Art of Monsters University also includes behind-the-scenes interviews with the film's many artists.
See also
Ad blocker interference detected!
Wikia is a free-to-use site that makes money from advertising. We have a modified experience for viewers using ad blockers

Wikia is not accessible if you've made further modifications. Remove the custom ad blocker rule(s) and the page will load as expected.