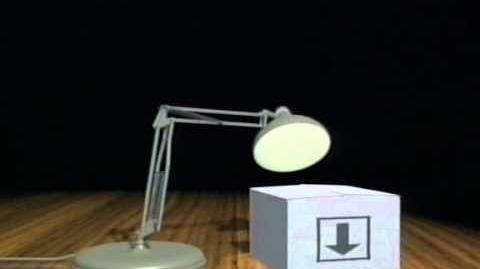 Surprise is an educational short film directed produced by Pixar for Sesame Street featuring the character of Luxo, Jr., originally from the short film Luxo, Jr.. Co-directed by Lasseter and Andrew Stanton, the short built upon the original film, focusing on little Luxo demonstrating the concept of "surprise" with the help of his dad, Luxo, Sr. The short was included on the Pixar Short Films Collection DVD and Blu-ray.
In the short, Luxo Sr. examines a box; when Luxo Jr. pops out demonstrating "surprise."
Sesame Street producer Arlene Sherman recalled how the shorts came about stating: "With Pixar, I was helping to train their animators for Toy Story. They needed to gear up a lot of people, so the Pixar people and I had a mutual feeling about the show and sensibility, and so I would never know when I was getting another animation. I would approve the storyboards, then I would get these packages in the mail, with these wonderful Luxo Jr. pieces. I've had to work a lot with relationships, and use the good feeling that Sesame Street is promoting. Working as a producer is a real advantage there, because people want to work for the show."[1]
The short, along with "Light and Heavy," won the "Features and Shorts" category at the Computer Animation Competition in London, and won first prize in the Theatrical Category at the 6th International Computer Animation Competition, Images du Future, Montreal.[2]
Credits
See also
References
↑ Willems, Mo. "A Conversation with Arlene Sherman and Abby Terkuhle." Animation World Magazine. September, 1997
Ad blocker interference detected!
Wikia is a free-to-use site that makes money from advertising. We have a modified experience for viewers using ad blockers

Wikia is not accessible if you've made further modifications. Remove the custom ad blocker rule(s) and the page will load as expected.