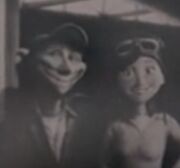 Snog is a character from The Incredibles.
The Incredibles
He is an old friend of Helen Parr. He owns multiple planes and jets and probably sells/rents them to people. He lends a jet to Helen Parr so she can access Syndrome's island.
Personality
He has a deep voice and is only seen in a picture of him and Hellen. He is wearing an aviator hat and looks young, showing he is a pilot.