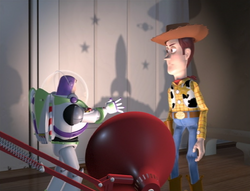 Shadow Play is one of the Toy Story Treats that aired on ABC's Saturday morning line-up in 1996.
Plot
Woody turns on a lamp. Seeing his shadow on the wall, Woody does simple shadow puppets. Buzz comes in and he does a shadow puppet of his own, but of an impossible-to-be-done American Bald Eagle. He then challenges Woody who does the dog shadow puppet, only to be bested again by Buzz doing one of the American Flag. Woody then does a bunny, but Buzz ends it with a rocketship blasting off, which angers Woody to the point of turning the lamp off and walking away.
In another short, Woody walks past the lamp and sees Buzz's shadow instead of his own. Woody looks around to see if Buzz made the shadow, but he isn't there. Woody then starts to do movements and the Buzz shadow mimics him. Woody begins flexing his muscles at the door, with the Buzz shadow making it look as if he is strong. A group of Aliens walks in to watch. Buzz's shadow shoots out his wings and jumps away, which makes Woody turn around and his normal shadow to return while Woody chuckles in embarrassment.
Trivia
The lamp that Woody and Buzz use is a red version of the Luxo lamp.
When Woody sees his shadow of Buzz on the door, the shadow is facing backwards instead of forwards.
Video
Ad blocker interference detected!
Wikia is a free-to-use site that makes money from advertising. We have a modified experience for viewers using ad blockers

Wikia is not accessible if you've made further modifications. Remove the custom ad blocker rule(s) and the page will load as expected.