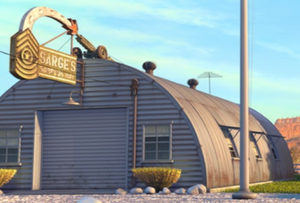 Sarge's Surplus Hut is a shop owned and run by Sarge in Radiator Springs in the films Cars and Cars 2. In front of the shop is a flagpole where Sarge raises the flag upon every morning. Sarge sells various items that the military uses, such as night vision goggles, a 75mm Pack Howitzer M1 cannon to help deal with tailgaters, and other army surplus supplies.
Trivia
Sarge's Surplus Hut appears as a shop in Cars Land, a recreation of Radiator Springs in Disney California Adventure Park.
Ad blocker interference detected!
Wikia is a free-to-use site that makes money from advertising. We have a modified experience for viewers using ad blockers

Wikia is not accessible if you've made further modifications. Remove the custom ad blocker rule(s) and the page will load as expected.