Rusty Rust-eze is a character in Cars.
Cars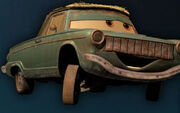 "Rusty and his brother
Dusty
created a small empire out of their mother's garage in Boston. It's been over 15 years and their mother has watched their operation grow into a household name with factories all over the country. Rusty and Dusty's mother says she couldn't be more proud of her two boy's accomplishments, but hopes that their next big move will be to finally move out of her garage."
[1]
Cars 3
Rusty returned in Cars 3 alongside his brother Dusty though like the original, they play minor roles.[2]
Trivia
Rusty's license plate reads "RUST". When combined with his brother's, the result is RUSTEZE.
He is based on a 1963 Dodge Dart.
Die-cast
References
↑ "Cars Finder" (supplementary material on Blu Ray Disc release of Cars). 2007. Blu Ray Disc. Walt Disney Home Entertainment, 2007.
Ad blocker interference detected!
Wikia is a free-to-use site that makes money from advertising. We have a modified experience for viewers using ad blockers

Wikia is not accessible if you've made further modifications. Remove the custom ad blocker rule(s) and the page will load as expected.