Ad blocker interference detected!
Wikia is a free-to-use site that makes money from advertising. We have a modified experience for viewers using ad blockers

Wikia is not accessible if you've made further modifications. Remove the custom ad blocker rule(s) and the page will load as expected.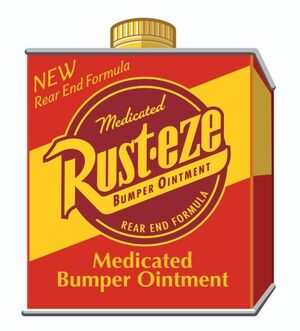 "Lightning McQueen here. And I use Rust-eze Medicated Bumper Ointment, new rear end formula! Nothing soothes a rusty bumper like Rust-eeeze."
—Lightning McQueen in a TV advertisement
Rust-eze Medicated Bumper Ointment is a bumper ointment company who sponsored Lightning McQueen in Cars. McQueen at first looks down upon the vehicles who run Rust-eze and is planning to ditch them and go with Dinoco as soon as he gets a chance, but has a change of heart after his life-changing experiences in the town of Radiator Springs, and decides to stay with the company. The product was created by brothers Dusty and Rusty Rust-eze and is somewhat a "rip-off" as the commercial states: "Actual results may take up to 36 weeks", which is about nine months.
Rust-eze Pledge
In the Cars Die-Cast Line, there is a Lightning McQueen released with a can of Rust-Eze. On the back of it, there is a pledge as follows:
"Get speedy, soothing, wonderful relief from the pain and discomfort of rust. Fast-acting Rust-eze contains up to 2 1/2 more Eze for quick soothing relief. We promise."
—Clink and Clank
Trivia