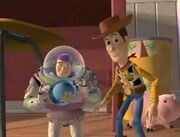 Robotic Affairs is one of the Toy Story Treats that aired on ABC's Saturday morning line-up in 1996.
Plot
Andy has just left the room and Woody gets up and congratulates everyone for a great play day. He goes over to Buzz who is dressed in a frilly apron with a hat on his helmet and asks him how his day went. Buzz says he'd rather not talk about it, and an electronic doll is heard saying, "I love you."
Trivia
Video

Ad blocker interference detected!
Wikia is a free-to-use site that makes money from advertising. We have a modified experience for viewers using ad blockers

Wikia is not accessible if you've made further modifications. Remove the custom ad blocker rule(s) and the page will load as expected.