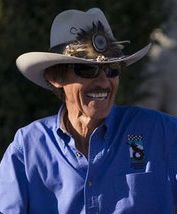 Richard Petty
(born July 2, 1937) is a former NASCAR driver who raced in the Strictly Stock/Grand National Era and the NASCAR Winston Cup Series. One notable movie that Petty made a cameo appearance in dealing with racing was
Swing Vote
, where Petty briefly allows Kevin Costner to drive his stock car.
He performed the voice of The King in Cars. He was married to Lynda Petty (who died on March 25, 2014 at her home in Level Cross, North Carolina after a long battle with cancer, at age 72), who had performed the voice of The King's wife Lynda Weathers.
Ad blocker interference detected!
Wikia is a free-to-use site that makes money from advertising. We have a modified experience for viewers using ad blockers

Wikia is not accessible if you've made further modifications. Remove the custom ad blocker rule(s) and the page will load as expected.