Rex at Play
is one of the
Toy Story Treats
that aired on ABC's Saturday morning line-up in
1996
.
Plot
Rex, in the first short, encounters Hand-in-the-Box, who proceeds to tickle him wildly.
In the second short, Rex turns Hand-in-the-Box's handle multiple times until the hand finally pops out and scratches Rex's back.
In the third short, Hand-in-the-Box and Rex are seen on the desk beside each other. Hand-in-the-Box pokes Rex on the back and moves the hand away when Rex turns his head around. Hand-in-the-Box pokes Rex on the back again, and Rex turns his body around to see who's there. Hand-in-the-Box orbits him out of sight, until Rex's tail knocks Hand-in-the-Box off the desk.
Videos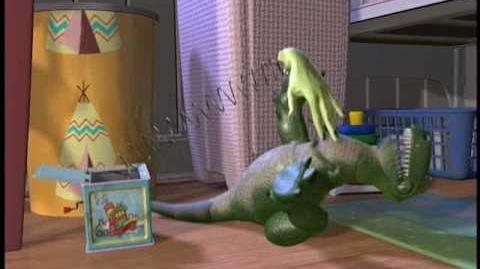 Ad blocker interference detected!
Wikia is a free-to-use site that makes money from advertising. We have a modified experience for viewers using ad blockers

Wikia is not accessible if you've made further modifications. Remove the custom ad blocker rule(s) and the page will load as expected.