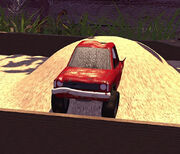 The Red Pickup Truck is a toy Toyota Hilux who appears in Toy Story. It is a broken red pickup truck with crooked parts and covered with sand. After being buried in Sid's sandbox for some amount of time, the Red Pickup Truck helps Woody and the mutant toys to stop Sid's habit of ruining toys by showing him it's alive.
Trivia
Ad blocker interference detected!
Wikia is a free-to-use site that makes money from advertising. We have a modified experience for viewers using ad blockers

Wikia is not accessible if you've made further modifications. Remove the custom ad blocker rule(s) and the page will load as expected.