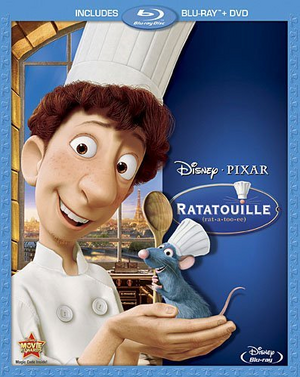 Home video releases of Ratatouille.
DVD Release
Release date: November 6, 2007
Fine Food and Film: behind-the-scenes feature with Brad Bird and chef Thomas Keller
Deleted Scenes
Scene Index
World's Best
This Is Me
Taste This
Caught
Exodus
Wall Rat
Le Cooks
Big Break
Discovered
The Pact
First Day
Test Drive
Accidental Success
Cooking With Colette
Something New
Old And New Friends
Homecoming
Exterminator
Kiss & Vinegar
Losing Control
Paper Chase
Up & Down
Heist To See You
Big Night(mare)
Ego Orders
Truth Hurts
Dinner Rush
Best Shot
The Review
La Ratatouille
End Creditouillies
Blu-Ray Release
All features from the standard DVD release
Cine-Explore, "Ultimate" behind-the-scenes experience
Additional Deleted Scenes
Gusteau's Gourmet game
Releases Gallery
Ad blocker interference detected!
Wikia is a free-to-use site that makes money from advertising. We have a modified experience for viewers using ad blockers

Wikia is not accessible if you've made further modifications. Remove the custom ad blocker rule(s) and the page will load as expected.