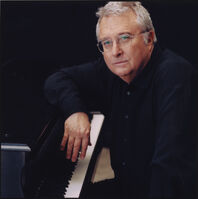 Randall Stuart "Randy" Newman (born November 28, 1943) is an American singer-songwriter, arranger, composer, and pianist. He has composed the musical scores for eight Pixar movies, and is set to be the composer for Toy Story 4. Besides music for Pixar, he also wrote and composed music for other movies such as Meet the Parents, Meet the Fockers, The Natural and How to Lose a Guy in 10 Days, plus TV shows such as ER and Monk. Hits from early in Newman's career include "I Love LA", "Sail Away", and "Short People".
Works
Awards
Trivia
References
Ad blocker interference detected!
Wikia is a free-to-use site that makes money from advertising. We have a modified experience for viewers using ad blockers

Wikia is not accessible if you've made further modifications. Remove the custom ad blocker rule(s) and the page will load as expected.