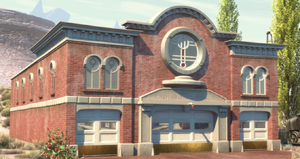 The City Hall is a building found in Radiator Springs in Cars and Cars 2. It is located at the end of the main road and houses both the courthouse and fire department of the town. Lightning McQueen was accused in that very building for breaking up the road. Since it houses the fire department, the building is also Red's home.
Ad blocker interference detected!
Wikia is a free-to-use site that makes money from advertising. We have a modified experience for viewers using ad blockers

Wikia is not accessible if you've made further modifications. Remove the custom ad blocker rule(s) and the page will load as expected.