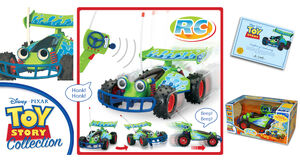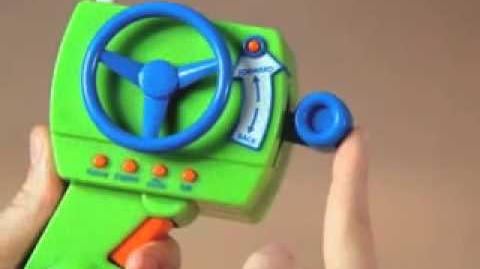 An RC replica produced by Thinkway Toys was released in fall 2009 as part of the first wave of the "Toy Story Collection" line.
Description
From Thinkway Toys:
Highly detailed deluxe film replica from DISNEY/PIXAR's digital data.
RC's playful personality is revealed with bouncing action, horn honking, free motion eyes, multiple expression and driving sound effects.
Move RC forward, in reverse or spin 360° in either direction using the Wireless Remote Control.
Independent left and right rear wheel drive for quick, on the spot pivoting.
Amazing FOLLOW MODE: Call RC and he'll detect your location and come to you! (Feature not present in earlier models).
Autonomous EXPLORE MODE. Press the Explore button on the remote and RC will cruise around on his own without remote guidance.
Includes a Toy Story Collection Certificate of Authenticity.
Inaccuracies
His Remote Control doesn't have the Turbo Switch.
His eyes aren't blue.
Ad blocker interference detected!
Wikia is a free-to-use site that makes money from advertising. We have a modified experience for viewers using ad blockers

Wikia is not accessible if you've made further modifications. Remove the custom ad blocker rule(s) and the page will load as expected.