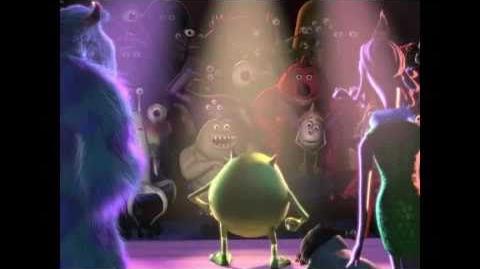 Mike: "NOW PUT THAT THING BACK WHERE IT CAME FROM, OR SO HELP ME---! Oh, hey. We're rehearsing a - a scene for the upcoming company play called uh, Put That Thing Back Where It Came From Or So Help Me. It's a musical. Put that thing back where it came from or so help me..."
Sulley: "Bom, bom, bom, bom..."
Mike: "So help me! So help me! And cut. We're still working on it, it's a work in progress but, hey, we need ushers."
—Mike Wazowski, explaining why he was yelling
"Put That Thing Back Where It Came From or So Help Me" was originally a fake play invented on the spot by Mike Wazowski as he and Sulley were attempting to return Boo, a human girl, back to her room and were nearly caught by other members of the company. It was later turned into a real play that was performed at Monsters, Inc.
Known cast members and their roles
Trivia
When Mike is explaining "Put That Thing Back Where It Came From or So Help Me", the lines, emotions, and animation from the credits and the actual film differ (read the quote at the top and then watch the beginning of the video).
Ad blocker interference detected!
Wikia is a free-to-use site that makes money from advertising. We have a modified experience for viewers using ad blockers

Wikia is not accessible if you've made further modifications. Remove the custom ad blocker rule(s) and the page will load as expected.