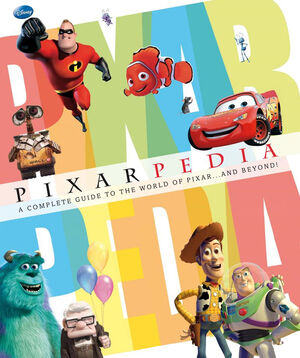 Pixarpedia was released by DK Publishing on August 31, 2009. It was written by Barbara Bazaldua, Steve Bynghall, Jo Casey, Glenn Dakin, Lucy Dowling, Laura Gilbert, Julia March, Catherine Saunders, and Victoria Taylor. It provides information on the movies and short films made by Pixar before its publication date.
Description
From before Toy Story to beyond Up, this one-of-a-kind encyclopedia captures all the films, shorts, characters, history, and information of Pixar Studios. Thousands of photographs and illustrations combine with behind-thescenes information to form the ultimate Pixarpedia.
Ad blocker interference detected!
Wikia is a free-to-use site that makes money from advertising. We have a modified experience for viewers using ad blockers

Wikia is not accessible if you've made further modifications. Remove the custom ad blocker rule(s) and the page will load as expected.