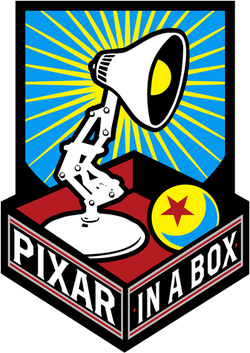 Pixar in a Box
is an online curriculum created in collaboration between
Pixar
and Khan Academy. It was launched on August 27,
2015
.
The course is meant to teach students about how various math and science concepts they learn in school are applied to making films and the various challenges that Pixar animators face. It does that in the form of a series of learning tutorials, which include videos, activities and quizzes. The videos are narrated by Pixar staff. For each video and quiz, students earn a certain amount energy points depending on how much of the video they watch or how well they do on the quiz.
Topics
The course started out with eight topics, but more have been added since.
Virtual Cameras
Effects
Patterns
Rigging
Animation
Environment modeling
Character modeling
Crowds
Sets & Staging
Rendering
Color Science
Each topic is further divided into two lessons, one of which is easier and only requires elementary math concepts, while the other is harder and more technical.
Future Topics
It is expected that six new topics will be launched each year for a few years. Some future topics include Optics, Simulation & Color and Storytelling.
Trivia
Videos
External Links
Ad blocker interference detected!
Wikia is a free-to-use site that makes money from advertising. We have a modified experience for viewers using ad blockers

Wikia is not accessible if you've made further modifications. Remove the custom ad blocker rule(s) and the page will load as expected.