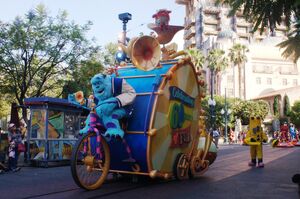 Pixar Play Parade
is a Pixar-based parade at Disney California Adventure that debuted on March 14,
2008
, replacing
Block Party Bash
. The parade features floats based on several Disney-Pixar films, including
Monsters, Inc.
,
The Incredibles
and
Toy Story
. The floats have small water jets that shoot water into the spectators. This effect was first introduced in
1993
for "Aladdin's Royal Caravan" at Disneyland, but this is the first parade at California Adventure to feature it. The music used came from that of Hong Kong Disneyland's Mickey's WaterWorks Parade, having the same tunes, but some changes in lyrics. The parade closed at California Adventure in August 2017 and went on a several-month hiatus. It returned in 2018, swapping parks with the nighttime parade Paint the Night, as part of the Pixar Fest event held at the resort that summer. When it returned, three new floats were added: the
Luxo Jr. lamp
(now leading the parade),
Bing Bong
's rocket from
Inside Out
, and a float based on
Up
.
Hiatuses
The parade has been put on hiatus three times during its run. The first two times, it was temporarily replaced with "Pixar Pals," an interactive show that featured characters only from Monsters, Inc. and The Incredibles. The first time was on January 4, 2011 due to the amount of construction going on at the park. It was originally set to return in November, but construction was still going on, so Pixar Pals continued until May 2012. Pixar Play Parade returned on June 15 to coincide with the grand opening of Disney California Adventure. The second time was during the 2016 Food & Wine Festival. However, this time, Pixar pals only featured The Incredibles, no Monsters, Inc.. When the festival ended, Pixar Play Parade returned. In August 2017, the parade closed at California Adventure after plans were announced for it to switch parks with the nighttime parade "Paint the Night" at Disneyland as part of the Pixar Fest event running through the summer. The parade returned on April 13 at Disneyland with three new floats.
Accident
A week after the parade debuted, an accident took place on the A Bug's Life float. One of the platforms on a swing in the back portion of the float broke off during a performance. Fortunately, the performer was able to get off the swing before it broke. For three months, only the front portion of the float remained in the parade. Disney put a suspension on all acrobatic acts in the parade, but it was lifted after less than a month later. The back portion of the float returned to the parade in July.
Parade Units
The parade is composed of several units, each one based off of a specific Pixar film. Each one is set to a cover version of a particular song. During transitions from one unit to another, "Countdown to Fun! and The Party's On" plays.