The Piston Cup racers that appear in Cars and in Cars 3.
Lightning McQueen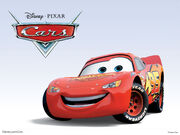 Main sponsor: Rust-eze Medicated Bumper Ointment
Number: 95
Team includes: Not Chuck (first race); Doc Hudson, Luigi, Guido, Fillmore, Sarge (final race); Mack
Voice: Owen Wilson & Keith Ferguson
Strip Weathers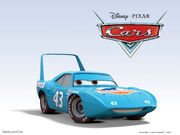 Main sponsor: Dinoco
Number: 43
Team includes: Luke Pettlework; Rotor Turbosky; Gray; Dinoco Girls
Voice: Richard Petty
Cal Weathers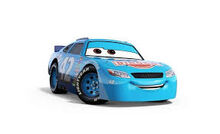 Main article: Cal Weathers
Main sponsor: Dinoco
Number: 42
Team includes: Strip Weathers
Voice: Kyle Petty
Chick Hicks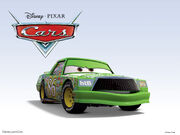 Main sponsor: htb: Hostile Takeover Bank
Number: 86
Team includes: Chief Chick (chief) ; Bruiser Bukowski
Voice: Michael Keaton (Cars), Bob Peterson (Cars 3)
Jackson Storm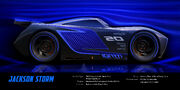 Main Sponsor: IGNTR
Number: 20
Team includes: Ray Reverham (crew chief), Gale Beaufort
Voice: Armie Hammer
Cruz Ramirez
Main Sponsor: Rust-Eze (2017 Florida 500 Piston Cup race only), Dinoco (official racing sponsor)
Number: 95 (2017 Florida 500 Piston Cup only), 51 (official racing number)
Team includes: Lightning McQueen (crew chief), Smokey (2017 Florida 500 Piston Cup race only), Guido
Voice: Cristela Alonzo
Dale "Junior" Earnhardt Jr.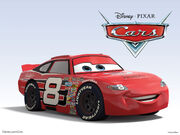 Main sponsor: Dale Earnhardt, Inc.
Number: 8
Voice: Dale Earnhardt, Jr.
Aiken Axler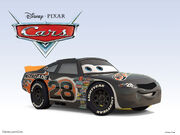 Number: 28
Main sponsor: Nitroade Hi-Energy Drink
Team includes: Hugo Fast
Claude Scruggs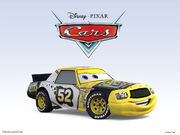 Number: 52
Main sponsor: Leak Less Adult Drip Pans: Watch your Wheels
Team includes: Stacy ; Earl Filter
Winford Bradford Rutherford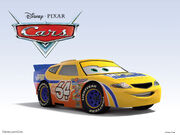 Number: 64
Main sponsor: RPM Nightime Backfire Suppresint
Team includes: "Petrol" Pulaski
Todd Marcus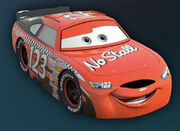 Number: 123
Main sponsor: No Stall
Team includes: Roman Dunes ; Shirley Spinout
Billy Oilchanger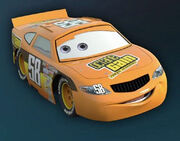 Number: 58
Main sponsor: Octane Gain Turbo Vitamins
Team includes: Dudley Spare
Crusty Rotor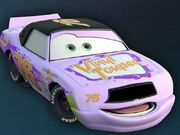 Number: 76
Main sponsor: Vinyl Toupee: Vinyl Top In a Can
Floyd Mulvihill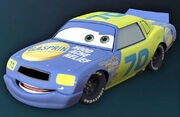 Number: 70
Main sponsor: Gasprin Hood Ache Relief
Rusty Cornfuel
Number: 4
Main sponsor: Tow Cap Hitch Protectors
Dirkson D'Agostino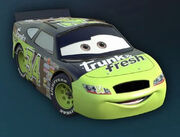 Number: 34
Main sponsor: Trunk Fresh: Smell ya' later
Darren Leadfoot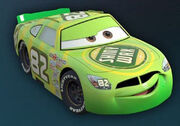 Number: 82
Main sponsor: Shiny Wax
Team includes: Senior Trax; Nebekenezer Schmidt
Slider Petrolski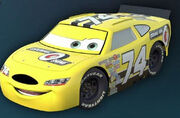 Number: 74
Main sponsor: Sidewall O' Shine
Davey Apex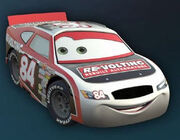 Number: 84
Main sponsor: Re-Volting Rebuilt Alternators
Ernie Gearson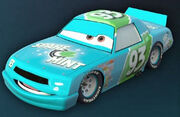 Number: 93
Main sponsor: Spare Mint
Team includes: Ernest B. Raykes ; Piccolo Perry
Lee Revkins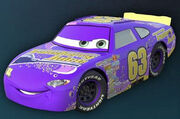 Main sponsor: Transberry Juice
Number: 63
Manny Flywheel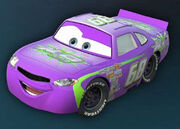 Main sponsor: N2O Cola
Number: 68
Team includes: N2O Cola Pitty
Ryan Shields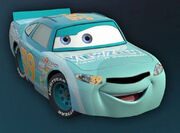 Main sponsor: View Zeen Corrective Windshields
Number: 39
Murray Clutchburn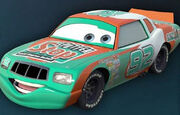 Main sponsor: Sputter Stop Cold Engine Relief
Number: 92
James Cleanair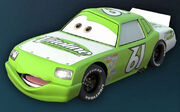 Main sponsor: Vitoline: For older active cars
Number: 61
Team includes: Vitoline Pitty
Eugene Carbureski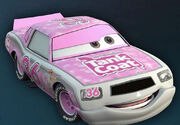 Main sponsor: Tank Coat: Soothes upset tanks
Number: 36
Team includes: Jerry Drivechain
Kevin Racingtire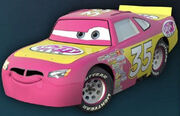 Main sponsor: Shifty Drug
Number: 35
Ruby "Easy" Oaks
Main sponsor: Easy Idle: A Warm Start to a Cold Morning
Number: 51
Johnny Blamer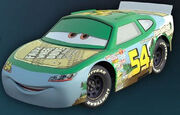 Main sponsor: Faux Wheel Drive
Number: 54
Chuck Armstrong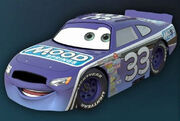 Main sponsor: Mood Springs
Number: 33
Brush Curber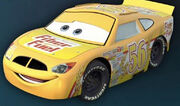 Main sponsor: Fiber Fuel
Number: 56
Haul Inngas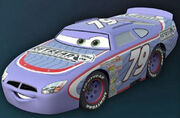 Main sponsor: Retread Tire Deodorant: Roll On
Number: 79
Ponchy Wipeout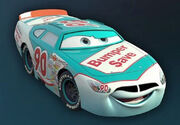 Main sponsor: Bumper $ave
Number: 90
Ralph Carlow
Main sponsor: Lil' Torquey Pistons
Number: 117
Misti Motorkrass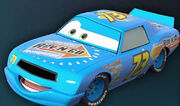 Main sponsor: Carburetor Rev-N-Go Decongestant
Number: 73
Kevin Shiftright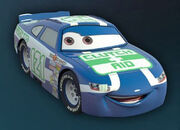 Main sponsor: Clutch Aid
Number: 121
Mac iCar
Main sponsor: Apple, Inc.
Number: 84
Greg Candyman
Main sponsor: Tach-O-Mint
Number: 101
Sage VanDerSpin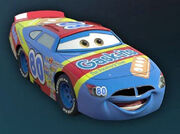 Main sponsor: Creme Filled Gask-its: The Racetrack Treat
Number: 80
Trivia
Two racers bear the number 84: Davey Apex and Mac iCar.
Three racers bear the number 51: Doc Hudson, Ruby Oaks, and Cruz Ramirez. All drove in different racing eras, though, so it was never problematic.
Misti Motorkrass is the only female racer in the first film.
Out of all the racers in the first film, Rusty Cornfuel has the number with the lowest value, 4, while Todd Marcus' number, 123, is the highest.
Ad blocker interference detected!
Wikia is a free-to-use site that makes money from advertising. We have a modified experience for viewers using ad blockers

Wikia is not accessible if you've made further modifications. Remove the custom ad blocker rule(s) and the page will load as expected.