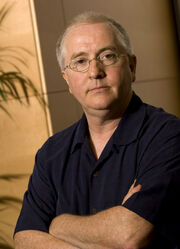 Patrick Doyle is a classically trained film composer who has worked on films such as Harry Potter and the Goblet of Fire, Thor, Rise of the Planet of the Apes, and Eragon. He composed the music for Brave. This marked his musical debut at Pixar, being the fourth composer to score a Pixar film following Randy Newman, Thomas Newman, and Michael Giacchino. He also performed the voice of Martin in Brave.
Ad blocker interference detected!
Wikia is a free-to-use site that makes money from advertising. We have a modified experience for viewers using ad blockers

Wikia is not accessible if you've made further modifications. Remove the custom ad blocker rule(s) and the page will load as expected.