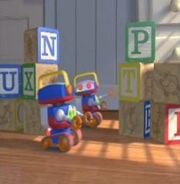 Optical Illusion is one of the Toy Story Treats that aired on ABC's Saturday morning line-up in 1996.
Plot
Robot goes by a couple stacks of blocks when he sees another version of himself on the other side as if it were a mirror. When Robot backs up and goes past it again, he then sees Rex, who runs away screaming.
Trivia
This is the only short that focuses on Robot.
Video