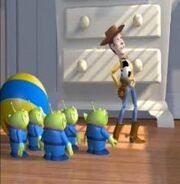 Oooh, Ball! is one of the Toy Story Treats that aired on ABC's Saturday morning line-up in 1996.
Plot
The Aliens are seen exploring Andy's room when they stop to admire a ball in excitement. They see Woody standing next to the ball posing for their attention, and then go back to admiring the ball again.
Trivia
Video
Ad blocker interference detected!
Wikia is a free-to-use site that makes money from advertising. We have a modified experience for viewers using ad blockers

Wikia is not accessible if you've made further modifications. Remove the custom ad blocker rule(s) and the page will load as expected.