Performer:
Appeared in:
Cars 2
Okuni
is a minor character in
Cars 2
. She was only seen in Japan.
Cars 2
Okuni is a micro car Kabuki dancer who dons the traditional white-painted face and an exquisite colorful kimono for her performances at the Kabuki theater in Tokyo, Japan.
Trivia
She is one of the few cars to have hair.
Her front bumper looks like sleeves.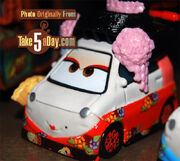 Gallery
Ad blocker interference detected!
Wikia is a free-to-use site that makes money from advertising. We have a modified experience for viewers using ad blockers

Wikia is not accessible if you've made further modifications. Remove the custom ad blocker rule(s) and the page will load as expected.