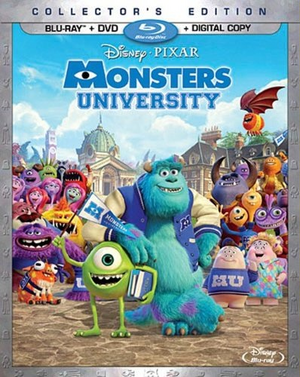 Home video releases of Monsters University.
DVD
Release Date: October 29, 2013
Bonus features:
Audio Commentary by Dan Scanlon, Kori Rae and Kelsey Mann
Scene Index
Field Trip
Titles
Freshman Orientation
Roommates
First Day
Not My Room
Pig Chase
A Challenge
1st Semester Show Down
Kicked Out
Dream Over
Mike's Plan
Initiation
First Morning
Toxicity Challenge
My Way
Keep Quiet
Party Like Scarers
Cute-me Kappa
The Big Leagues
Teamwork
A Seed Of Doubt
Final Competition
A Betrayal
Door Breach
Searching For Mike
Shut Down
The Big Scare
Separate Ways
Epilogue
End Credits
Easter Eggs
Blu-ray
Disc One
Audio Commentary by Dan Scanlon, Koria Rae and Kelsey Mann
Disc Two
"Campus Life"
"Story School"
"Scare Games"
"Monthropology"
"Welcome to MU"
"Music Appreciation"
"Scare Tactics"
"Color and Light"
Paths to Pixar: MU Edition
"Furry Monsters: A Technical Retrospective"
Deleted Scenes

Drama
Recon
Movie Night
Rivakry

Promo Picks

"Monsters Mash-Up"
College Campaign

Commercial
NCAA
"Admissions"

Theatrical Campaign

Original Theatrical Teaser
"Back Then"
"One Night"
Japanese Trailer

Set Flythroughs

The Campus
The Scare School
Frat Row
The OK House

Art Gallery

Characters
Color Keys
Development Art
Environments
Graphics
Gallery
Ad blocker interference detected!
Wikia is a free-to-use site that makes money from advertising. We have a modified experience for viewers using ad blockers

Wikia is not accessible if you've made further modifications. Remove the custom ad blocker rule(s) and the page will load as expected.