Full credits for Monsters, Inc.
Directors
Writers
Cast
character names are as listed in the film's end credits
Producers
Original Music
Film Editing
Casting
Production Design
Art Direction
Production Management
Art Department
Sound Department
Visual Effects
Camera and Electrical Department
Animation Department
Editorial Department
Music Department
Other crew
Thanks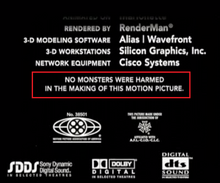 monsters inc. books available wherever books are sold
cd-rom and video games available from disney interactive
exclusve monsters inc. merchandse now at disney stone disney store catalog and www.disneystore.com
original sound track available from walt disney records
Ad blocker interference detected!
Wikia is a free-to-use site that makes money from advertising. We have a modified experience for viewers using ad blockers

Wikia is not accessible if you've made further modifications. Remove the custom ad blocker rule(s) and the page will load as expected.