Full credits for Monsters, Inc.
Directors
Writers
Cast
Additional Story Material by
Producers
Original Music
Film Editing
Casting
Production Design
Art Direction
Production Management
Art Department
Sound Department
Visual Effects
Camera and Electrical Department
Animation Department
Editorial Department
Music Department
Other crew
Post Production Sound Services Provided by
A Division of Lucas Digital LTD., LCC, Marin County, California
"If I Didn't Have You"
Music and Lyrics by
Performed by
Produced by
Production Babies
Thanks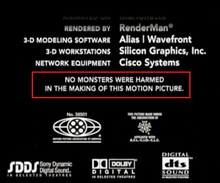 | | |
| --- | --- |
| Monster Inc, Books | CD-ROM Videogames |
| Available Wherever | Available From |
| Books are Sold | Disney Interactive |
Executive Monster Inc, Merchandise Now at
Disney Store, Disney Store Catalog &
www.disneystore.com
Copyright © MMI Disney Enterprises, INC./Pixar Animation Studios
All Rights Reserved
This Motion Pictures was Created by Pixar Talking Pictures
For Purposed of Copyright Law in the United Kingdom.
Original Soundtrack Available from
Walt Disney Records
Distributed by
Created and Produced
Emeryville, California
Ad blocker interference detected!
Wikia is a free-to-use site that makes money from advertising. We have a modified experience for viewers using ad blockers

Wikia is not accessible if you've made further modifications. Remove the custom ad blocker rule(s) and the page will load as expected.