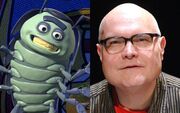 Michael McShane (born on June 25th, 1955), is an American actor, comedian, and singer. He provided the voice of the Hungarian pillbugs Tuck and Roll in Pixar's A Bug's Life. He has appeared in numerous movies such as Robin Hood: Prince of Thieves (1991) with Kevin Costner, and Disney's Tom and Huck (1995) with Jonathan Taylor Thomas and has also guest starred on TV shows such as ER and 3rd Rock from the Sun. He and his wife live in Claremont, California.
Ad blocker interference detected!
Wikia is a free-to-use site that makes money from advertising. We have a modified experience for viewers using ad blockers

Wikia is not accessible if you've made further modifications. Remove the custom ad blocker rule(s) and the page will load as expected.