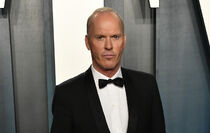 Michael Keaton (born September 5, 1951) is an American actor, producer, and director who performed the voice of Chick Hicks in Cars and its video games and Ken in Toy Story 3 and Hawaiian Vacation. He performed the voice of Chick Hicks again in Cars 2: The Video Game for the PlayStation 3 and Xbox 360. Michael Keaton was also known for working with Tim Burton as Betelgeuse in the film Beetlejuice and as Batman in Batman and Batman Returns, however did not reprise his role in Batman Forever. For some unknown reason he didn't reprise the role of Chick Hicks for Cars 3 and was replaced by Bob Peterson. Keaton is also known for performing the voice of Walter Nelson in the 2015 Illumination Entertainment film Minions. He most recently played Adrian Toomes / Vulture in the 2017 Spider-Man reboot Spider-Man: Homecoming.
Ad blocker interference detected!
Wikia is a free-to-use site that makes money from advertising. We have a modified experience for viewers using ad blockers

Wikia is not accessible if you've made further modifications. Remove the custom ad blocker rule(s) and the page will load as expected.